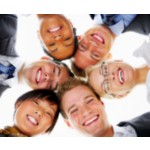 Avery Dennison Culture
If you're looking for an employee-valuing culture, we'd like to get to know you. We're Avery Office Products, part of Avery Dennison Corporation. We're a driving force in the office products industry, and we're looking for quality people with ideas and solutions to help us break new ground in the 21st century.
Vision

Changing the way people work by providing creative solutions, unique services and innovative products for the office, school and home.
Values
Our values guide the way we work together to build an ethical and successful business where people are respected, involved, enjoy, and are challenged by their work and continuously learn. Each of us strives to:
Have integrity

Value and respect individuals

Build and support teamwork

Take initiative and risks

Focus on customers and consumers

Foster innovation and learning

Be socially responsible
Avery Leadership Position in the Office Products Marketplace
Avery holds the leading position in various product categories. Our brands (including Avery® Marks-A-Lot® and Hi-Liter®) are among the most recognized in the industry. This gives Avery Office Products heightened visibility with our trade customers and consumers. Avery is recognized as a leader in bringing innovative products to the market. Recent popular introductions include Avery Inkjet Labels, Mini-Sheets® Laser Labels, Direct Print® Index Dividers, DualSharp®, StaySharp®, and Comfort Grip Hi-Liter® Markers and more.

How Do We Do It?
With a leading position in the marketplace and significant growth fueled by new product innovations, Avery Dennison provides a thriving environment for career growth.

Dedication To the New Product Development Process
At Avery, we put a premium on new product development; it's our lifeblood in the competitive and dynamic office products industry. We have steadily increased the percentage of sales from new products introduced within the past five years, and we seek creative employees to identify and champion new products.

Today's Consumer Mindset
While Avery products are most often used in the business environment, individual consumers often select these products. As such, Avery Dennison strives to understand, reach, and satisfy the needs of these end users.

Computer Technology Focus
Much of the growth in Avery Dennison has come from a strategic focus on high-technology solutions for consumers. We have established exclusive partnerships with leading software companies, including Microsoft
®
and Corel
®
, to design built-in templates in their popular word processing and database programs. Avery Dennison works closely with major hardware manufacturers such as Hewlett-Packard
®
and Canon
®
to create targeted promotions and high-performance products.