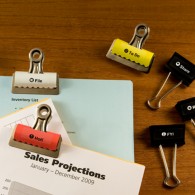 Get the Job Done with Action Binder Clips

When you have paperwork you need to take care of, do you shuffle them away into a file folder and lose track of them? Or do you place sticky notes on top of your stacks and hope the pages don't become separated? With these practical binder clips, you'll never lose sight of your important paperwork. You'll know exactly what you need to do with each bundle, without ever having to second guess. It's like having a bunch of personal assistants at your desk.
Instructions:
Use the pre-designed labels from the template, or customize them to suit your needs.
Instructions:
Bend the label sheet to expose the label edge, then peel. Press the labels firmly onto the binder clip's sides. You might want to label both sides of each binder clip with the same action to avoid confusion.
Instructions:
When using the White Easy Peel Return Address Labels, you may need to trim any excess white edges before affixing the label onto your dark binder clip for a neat, seamless look.
This review is from AVERY Get the Job Done with Action Binder Clips:
The step by step steps are a dream.
Easy to follow, and gets the job done, if you have all that pieces.

I find Avery's step by step steps to be consistently follow-able.

I think the labels for the binders. But I must admit, I'm on the uber planner scale, there are those who would say, why bother with the little detail of putting a label on a binder clip.

For those who don't, try it, and see how much more organized you are, and how easily it will be to know what you've clipped together.