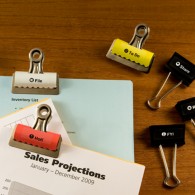 Get the Job Done with Action Binder Clips

When you have paperwork you need to take care of, do you shuffle them away into a file folder and lose track of them? Or do you place sticky notes on top of your stacks and hope the pages don't become separated? With these practical binder clips, you'll never lose sight of your important paperwork. You'll know exactly what you need to do with each bundle, without ever having to second guess. It's like having a bunch of personal assistants at your desk.
Instructions:
Use the pre-designed labels from the template, or customize them to suit your needs.
Instructions:
Bend the label sheet to expose the label edge, then peel. Press the labels firmly onto the binder clip's sides. You might want to label both sides of each binder clip with the same action to avoid confusion.
Instructions:
When using the White Easy Peel Return Address Labels, you may need to trim any excess white edges before affixing the label onto your dark binder clip for a neat, seamless look.