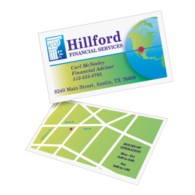 Design & Print Two-Sided Business Cards

You've got your name, company, and contact information on one side of your business card. But what if you want to say more? With Avery Two-Side Printable Clean Edge Business Cards, you can put the essentials on the front, and add custom messaging on the back. What's on the back of your business card?
It does the job.

I think some of the reviewers are trying to create works of art instead of business cards. It's easy enough to create an attractive card, but it is just contact information.

No one is going to say "What a marvelous business card! It should hang in the Louvre next to the Mona Lisa!"

There is at least one other site that will do business cards with QR codes, but the text is so small it's unreadable. But with this site, I just create that QR code on the other side of the card.
Alignment on one side is very diffult -- takes hours of trial and error to get it right (single sheet of regular paper is MUCH different than the business card material). Then to align front and backside is nearly impossible -- one has to have different adjustments for front vs. back!
The templates and ease of use are decent and maybe even good. The finished product that comes out, on even a top level printer, is not. Just like the reviewer I read earlier, this would be a GREAT product except for one flaw----IT DOESN'T WORK. I don't care how many times, and tricks and adjustments I have made on 2 different printers, you can not get an entire sheet of business cards to print within the boundaries unless you are using the most simple, words only, design. Forget about making a nice looking card with graphics and add-ons, not gonna happen. Very, Very Disapointed.
I found a template that had a design I liked, and I was able to fairly easily and quickly put together a business card. However, in printing, I found that the alignment was never quite right, even after adjusting it. I also found that I could download only in an "Avery" format, which cannot be retrieved any other way but online. When I needed a quick printing, I then had problems bringing up the web page! Unfortunately, the same design is not available in templates that are downloadable in Word. A disappointment, as I will have to choose a design I like less, but is more flexible and not dependent on whether or not the web page is accessible.
I have been using Avery business card form #8873 for five years. While I did not use the Avery designs for my card, I can tell you that my cards are very professional looking and we have received many compliments on them. I have found that the type of printer - how the form feeds into it - is critical. I do have to accommodate some differences in spacing from top to bottom and side to side due to the discrepancies caused by my printer. I do this in the design spacing on the computer. Once that was figured out, I have had no problem since.

I use Avery products and templates for other projects and find them more than satisfactory. It's the learning process on how to use them that takes some time.