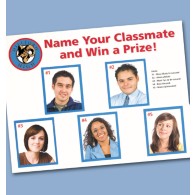 Reunion Poster

Create a photo poster to play a "Who's Who" game at a school or family reunion.
Instructions:
You'll need the following:
-
Avery Sign Sheets
(2733™)
- School mascot clip art
- Photos of classmates
Instructions:
Using the Avery Sign Kit Software, select "Poster" and choose the horizontal format.
Add the school mascot clip art and position in the top left corner.
Create a text box and type in the heading for your poster.
Create colored boxes and layer photos of classmates over each box to create a frame around each photo.
Add large numbers inside each photo for identification. Repeat for each photo.
Create a new text box and type in an index to identify each of the photos.
Instructions:
Print out the poster onto Avery Sign Sheets and follow the directions to assemble the poster.