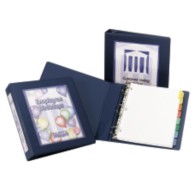 Get Organized with Dividers

Find the information you want quickly and easily with a well-organized binder. Dividers help categorize your papers, making information management a breeze.
Instructions:
Organize your important documents into categories for your binder.
Instructions:
Create customized
Avery Ready Index Clear Label Dividers
with your designated categories using the template found in your desktop software or at
Avery Design & Print Online
. Enter the names of each category into the template, then apply the labels to the dividers and file your documents behind the right divider.
Instructions:
Place documents into an
Avery Framed View Binder
. You can create a custom cover and spine featuring your company logo by using your desktop software or Avery Design & Print Online.