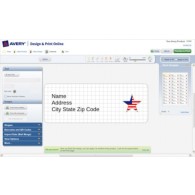 Coordinate the Look of Your Projects with Avery Design & Print Online

You've finished designing your project on Avery Design & Print Online, and you like how it looks. If you want to use this design on a different project to create coordinating products, you don't have to start from scratch—we'll show you how easy it is to transfer your design onto another product of your choice in just a few quick steps.
Instructions:
After completing your last project, click the purple
Apply Design to Another Product
button located under Preview and Print Options.
Instructions:
To select your product by category, choose from the options listed on the left under Select Category.
If you know the product number you'd like to use, you can simply enter the number in the box under Select Product.
Instructions:
Design: Keep the current design, or create your own. To change the design, just click and delete the existing graphic or background you want to change, then use the image options on the left of the screen to add a new graphic from the image gallery or your own files.
Text: Click the text box to enter your text. To add a new text box, click the
New Text
button from the Text menu on the left.  Move your text boxes by clicking on the edge of the box and dragging it to just the right spot.
Use the sheet navigator on the right-hand side and choose
Edit All
to make changes to all your labels, such as changing the text style and size.  Then, to apply a different design and/or text to individual labels, choose
Edit One
and click on the card you want to edit.
Instructions:
Click
Preview & Print
to review your design. To make adjustments, just click the
Back
button. When your design is ready to go, just click the green
Print
button to open the file. Your labels are ready to be printed.
Instructions:
To save your design, click the
Save
button. In the pop-up window, create a file name and save to either a free MyAvery account online or to your computer. To open saved projects, just go to avery.com/print.
Instructions:
Like the look of your project? You can apply the design to another product by clicking the purple
Apply Design to Another Product
button from the Print page. Then enter the Avery product number to start your next project!