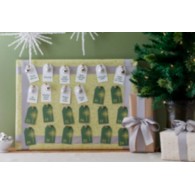 Turn the Advent Calendar into a Holiday Activities Planner

Remember the fun and excitement of the advent calendar from your childhood? For 24 days starting December 1, you would open a tab each day to reveal the special message, picture, or gift for that day. This traditional favorite is back, but with a twist. Create your own unique advent calendar with Avery Printable Tags by customizing each tag with either a chore to be done or a cheer to be had. Use the other side to print a number (to represent the date) on each, from 1 to 24. Arrange the tags on a board with the numbered-side facing out. Then gather the family to see what's in store each day by selecting the appropriate tag and flipping it over to see whether it's task or treat. Now you can rekindle the spirit of Christmas past, and with a little ingenuity turn it into your holiday helper.
Instructions:
Click to open the tag design template on Avery Design & Print Online. This free software program at avery.com/print is available anywhere you have internet access—no download required!
Advent Calendar Tag
Instructions:
Design: Keep the current design, or create your own. To change the design, just click and delete the existing graphic or background you want to change, then use the image options on the left of the screen to add a new graphic from the image gallery or your own files.
Text: Click the text box to enter your text. To add a new text box, click the
New Text
button from the Text menu on the left.  Move your text boxes by clicking on the edge of the box and dragging it to just the right spot.
Use the sheet navigator on the right-hand side and choose
Edit All
to make changes to all your tags, such as changing the graphic or background. Then, to apply a different number to each individual tags, choose
Edit One
and click on the card you want to edit. Number the cards 1 through 24.
Instructions:
Click
Preview & Print
to review your design. To make adjustments, just click the Back button. When your design is ready to go, just click the green Print button to open the file. Your tags are ready to be printed.
Instructions:
To save your design, click the
Save
button. In the pop-up window, create a file name and save to either a free MyAvery account online or to your computer. To open saved projects, just go to avery.com/print.
Instructions:
Now let's write a message behind each of your tags. Have fun mixing it up—assign tasks on some tags, such as "Mail holiday cards," "Bake cookies for school," and "Wrap gifts," while leaving some cards for fun activities, like "Go ice-skating," "Stay in and watch a holiday movie," and "Take pictures with Santa."  Be sure to keep the date on the flip side in mind as you plan your tasks and activities!
Instructions:
To create a festive board like the one shown here, start with a corkboard and wrap with fabric or wrapping paper.
Use pushpins to arrange the tags in four rows of six, in numerical order. We used an ornament to mark each tag once it's been revealed. Enjoy the fun and anticipation of what each day will bring with this fun little project your entire family can enjoy!