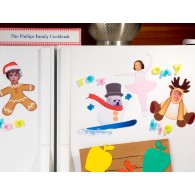 Get Attracted to Magnetic Paper Dolls

You and the kids won't be able to resist making your own personalized magnetic mini-me. They make great party favors for kids or a whimsical little stocking stuffer. Have fun dressing up the doll with these outfits, or create your own!
Instructions:
Cut out the paper doll templates, carefully cutting out and removing the area where the head will be.
Instructions:
Print out a digital photo or choose a photo from your own personal collection. Carefully cut out the head of your kids, relatives, friends or even the family pet!
Instructions:
Anchor your personal head photo with the magnetic doll and place it on your refrigerator or any other metal surface.